Order it before 16 hours and 36 minutes and receive it between on Wednesday 7 June and Thursday 8 June with GLS Corriere Espresso €7.99
Delivery Options
Carrier
Description
Estimated Delivery
Price
GLS Corriere Espresso
Delivery in Italy estimated in 1/2 working days.

Wednesday 7 June - Thursday 8 June

€7.99

DHL Express Italia
Consegna in Italia stimata in 1/2 giorni lavorativi.

Wednesday 7 June

€14.99
GLS Corriere Espresso
Delivery in Italy estimated in 1/2 working days.
Estimated delivery:
Wednesday 7 June - Thursday 8 June
Price: €7.99

DHL Express Italia
Consegna in Italia stimata in 1/2 giorni lavorativi.
Estimated delivery:
Wednesday 7 June
Price: €14.99
MYFIT Footies Low 2mm are great little helpers to prevent blisters and pain during sports activities like inline skating, roller skating, and other sports where athletes' feet need to be protected especially also in the high-stress areas like ankles and Achilles tendon. Blisters are caused by friction, which means you have too much room in your boots or skates. Footies fill the empty space. Low-cut Footies are offered in three different thickness options: 1mm, 2mm, and 3mm thickness. Made from highly resistant SBR material sourced from Japan, Footies offer relief from high-pressure points on the foot. Flatlock stitching ensures a comfortable fit. Footies should be washed by hand only. These Footies come with 2mm thick material and low cut which is ideal to wear in low cut speedskates or roller derby skates.
DETAILS
Vegan: yes
Stiffness: Medium
Upper Material: Special neoprene made in Japan, 2mm
Comfort: Medium
Sizes: XS = 31-34 / S = 34-37 / M = 37-40 / L = 40-43 / XL = 43-46 EU
Cushions Material: Special neoprene made in Japan
Heel Support: Medium
Customers who bought this product also bought: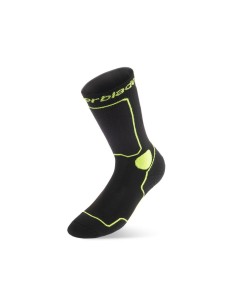 SOCKS
S(35-38)
M(39-42)
L(43-46)
XL(47-49)
11 other products in the same category: